Compliance Dashboard

Integrated well known compliance tools
Direct and tracked client interactions
All information in one place

Fast Client Onboarding

In office and remote digital onboarding
Photo, video or automated identifications
Qualified e-signature & document management

Banking grade for many industries

Fully GDPR and financial regulations compliant
Anonymized data stored in Switzerland
A service based cost model
Open platform integrating all required functions in a guided workflow.
Each module can be fully customized and adjusted to the specific requirements of the client and jurisdiction.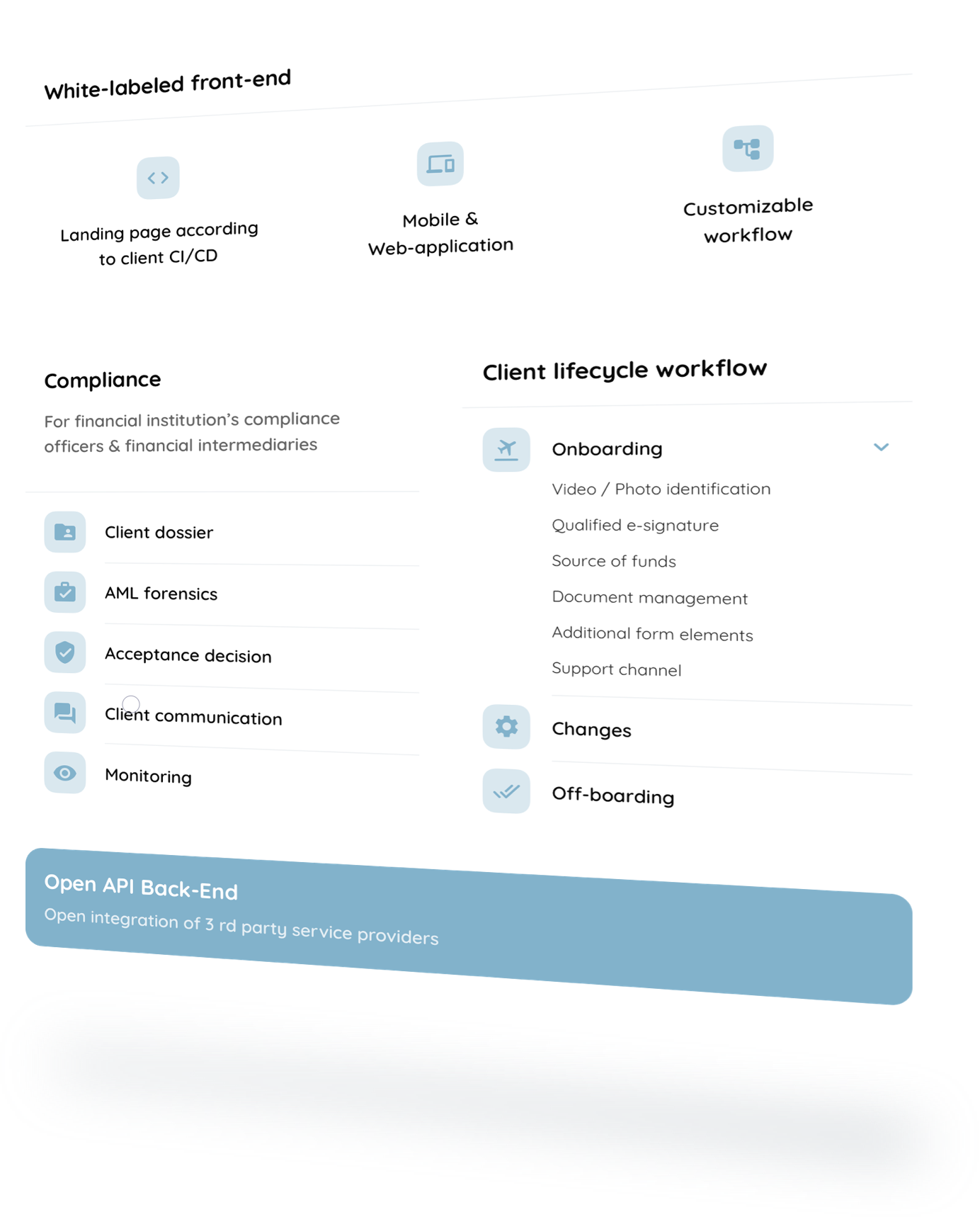 Userfriendly Client Workflow

User-friendly Client Workflow

Video, photo or automated identifications
Document management
Automated document generation
Qualified e-signature

Compliance Officer Dashboard

Client dossier with instant risk indications
Line of defense delegation workflow
Direct and traced client interactions
For compliance officers or front support
Client acceptance and rejection
Compliance checks and crypto forensics checks

White-Labelled & Open API

Landing page widget
Mobile & web-application
Zero-touch two factor authentication
Secure and seamless integration of 3rd party service providers
Standard User Journey
1)

Information Gathering

The client enters all relevant data and uploads all required documents
2)

Identification & e-Signing

FINMA compliant video or auto identification, and convenient qualified electronical signing of contracts.
3)

Compliance Verification

Compliance officer decides on acceptance of client supported by risk flags, overview of compliance tool hits, and other information all bundled in one client dossier.
4)

Client Onboarded

Communication to client of successful communication. Data transferred to other systems and other processes triggered, e.g. for card request.
Data export
Data transfer to core & CRM systems.
Video
Get a quick introduction to KYCGate
About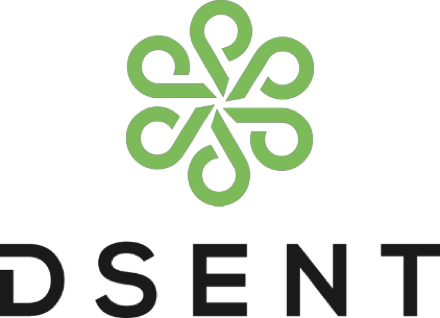 DSENT AG
Gotthardstrasse 26
6300 Zug
Switzerland
Management
Felix Simon Business Development

Christian Di Giorgio Product Management

Michael Koller Head Software
Engineering and Operation
Infrastructure for the Decentralized Finance (DeFi)
Cryptoassets Directory The Bloomberg of the Token Economy

Reliable information of cryptoassets

CAT Cryptoasset Tokenization

Guided design, documentation
and generation of cryptoassets

Tokengate Connecting People and Tokens

Token issuance, investor onboarding
and corporate actions

KYCgate Client Onboarding in Minutes

KYC/AML compliant remote
onboarding of prospects
Contact Us
Ensure KYC/AML compliance through all channels
for individuals and companies